I'm going to call it Day 2, since it was day 2 of actual work. Real Day 2 was spent trying to figure out wiring issues, and day 3 was spent eating at BW3 and not f'ing with the garage.
Day 2:
Installed the majority of the 2nd of 7 roll of insulation, hung 3 of 20 of the drywall sheets, went back and added the first upper section just to see how bad it'd be.
Things learned:
It's
very
easy to get carried away with a rotozip-type tool when cutting out outlet boxes (whoops)
Hanging 8x4 sheets of drywall by yourself is a massive PITA.
I suck at hanging drywall. My first sheet wound up wonky, even though it was perfectly butted against a wall stud on the corner. 2nd sheet followed suit, so I corrected with the 3rd sheet, actually leveling the top, resulting in the nice-ass gap. I'm putting a lot of faith in tape and joint compound.
Pics: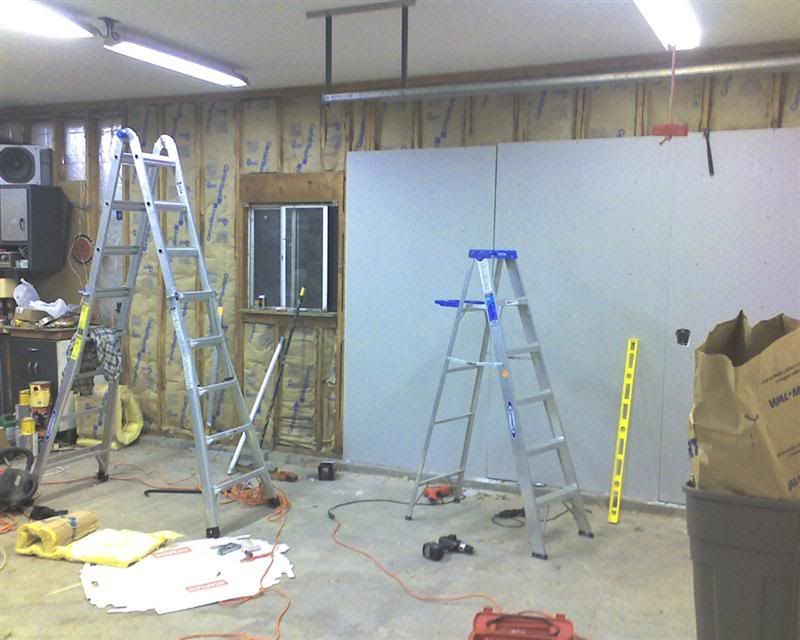 The 'fun' part is gonna be that window. And by fun, I mean "something I'll surely screw up". All in all, I'm pretty happy with the progress, considering I only have 2 actual nights of work in this, about 3 hours a night, and last night I stopped to eat and make a Sears run. This weekend is lost to Champaign. Monday night I'll button up all the wiring on this wall (need to replace some 14/2 wiring with 12/2 to keep my mind at ease), and hope to have all the drywall hung on this wall by Tuesday/Wednesday, hopefully have it taped and mudded and sanded by Friday. That will give me the weekend to doink with wiring on the other wall, move shit, and start the other side, which should go pretty quick since there's no windows/cabinets in the way.